Chicken
---
Bacon Mushroom Smothered Chicken
---
Chicken

4 Boneless and Skinless Chicken Breasts

Cumin to taste (1 ½ to 2 ½ tsp)

1 ½ tsp Oregano

Salt and Pepper to taste

Garlic Salt to taste (2 tsp)

Sweet Baby Rays BBQ Sauce (I use either the Chipotle or Sweet-n-spicy)

Chicken Topping

Olive Oil Spray

Sliced mushrooms - 8.5 oz can well drained

½ Sweet Onion – sliced

Rotel Tomatoes – 14 oz can well drained (Mild or Hot will work)

Salt and Pepper to taste

Garlic Salt to taste

Oregano to taste

Cumin to taste

Lime Juice – 1 tsp

Brown Sugar Bacon – 8 pieces cooked but not too crispy

Shredded Mozzarella and Cheddar Cheese – 2 cup Kraft package
Chicken Preparation
Sprinkle chicken breast with spices on both sides and grill until done (internal temp of 165 degrees – the juices should be clear by then).
Brush Sweet Baby Rays BBQ sauce on both sides of chicken and place in a glass oven-safe dish.
Chicken Topping Preparation – Prepare while grilling the Chicken
Heat oven to 400 degrees
Cook bacon to desired level and set aside.
Spray medium saucepan with enough olive oil spray to lightly coat the bottom of the pan.
Heat pan for 1 ½ minutes over med-high heat
Add mushrooms and onions and sauté for approximately 5 minutes.
Add Rotel Tomatoes and season with Salt, Pepper, Garlic Salt, Oregano, Cumin, and Lime Juice
sauté for 3-5 minutes and remove from heat
Assemble the Masterpiece
Place two pieces of bacon on each chicken breast
Using a set of tongs, place ¼ of the topping on each chicken breast
Top each breast with a handful of cheese
Bake in the oven for 5-7 minutes or until cheese is melted.
---
My kids consider this their favorite meal. Of course, no one makes this better than Grandma Howard so I just do the best I can and hope that I can make them as good as she does some day.
| | |
| --- | --- |
| 4 - 6 large chicken breasts | 2 tsp baking powder |
| 4 tsp salt, divided | ¼ cup shortening |
| ¼ tsp pepper | 2 eggs, beaten |
| 4 Cups flour | 1 cup plus 2 ½ tbs broth |
In a large pan, cook chicken covered with water, add 2 tsp salt.

When chicken is almost done, remove 1 ¼ cups broth, save and let cool for later use

Continue cooking chicken until done.

Mix flour, 2 tsp salt and baking powder.

Cut in the shortening with a fork.

Add a little of the cooled broth with the beaten eggs.

Add to flour mixture, continue adding the broth until it is the consistency of pie dough, can be a little sticky.

Roll about ¼ of the dough at a time on a floured surface with rolling pin.

It is best to roll out all of the dough before cutting it.

Cut into strips about 1x2 inches (a pizza cutter works best).

Remove the chicken from the broth and divide the broth into 2 large pans for ease of cooking the dumplings (add water if needed and bring to a boil).

Add dumplings one at a time into the boiling broth. Keep the broth boiling until all the dumplings are added.

Cover and continue cooking over low heat, stirring often until dumplings are no longer doughy.

Add cooked chicken breasts to dumplings to reheat. Add more salt if needed.
Serve with peas and boiled potatoes.
---
This recipe is perfect with garlic and cheese mashed potatoes, yeast rolls, and green beans.

1 tsp salt

1 tsp pepper

1 tsp garlic salt

1 tsp oregano

1 tsp thyme

1 tsp marjoram

1 tsp onion powder

1/2 tsp Chipotle chili pepper or cayenne pepper

Combine these ingredients and mix well.
4 Boneless and Skinless Chicken Breasts

Place chicken between two pieces of plastic wrap and pound until thin
Sprinkle the seasonings above over both sides of the chicken breasts
1 tbsp olive oil

3/4 Cup flour

5 tbsp butter

2 1/2 cups mushrooms, sliced

1 cup marsala wine

1 cup chicken broth

1 1/2 tsp salt

1 tsp pepper

Place flour in pie plate or similar shallow dish
Heat the olive oil in a large sauté pan over med-high heat
While oil is heating, dredge chicken in flour, shake off excess and set aside
When oil is very hot, add 2 tbsp butter
Add chicken breast to pan and cook for 3 - 4 minutes on each side or until golden brown
Remove the chicken from the pan and set aside
Add 2 tbsp of butter to sauté pan
Add mushrooms to the pan and cook (stirring frequently) until mushrooms are golden brown
Stir in the marsala wine and bring to a boil for 5 minutes
Stir in chicken broth
Add the salt and pepper and cook for 3 - 4 minutes (sauce should begin to thicken a bit)
Place chicken back in the pan and reduce heat to med
Cook chicken for about 4 minutes on each side
Add 1 tbsp butter and mix well
Place chicken on plate and spoon mushroom and sauce over the chicken
---
4 Boneless and Skinless Chicken Breasts

1- 10 oz. Bacardi margarita mix; thawed

2/3 cup tequila

1 tsp garlic salt

1 tsp salt

1 tsp pepper

1/2 tsp cayenne pepper

1/2 cup fresh cilantro; chopped

2 tablespoons McCormick's chicken seasoning
In a mixing bowl, combine all ingredients except chicken and mix well
Place marinade and chicken in large freezer bag and seal tight
Marinate in refrigerator for 2 hours
30 minutes prior to cooking, sit chicken at room temperature
Cook over medium heat on grill or at 350 degrees in oven until done (approximately 6 minutes each side on grill or 40 minutes in oven)
---
4 cups cooked chicken breasts

2 teaspoons dried cilantro (optional)

1 tablespoon olive oil

3 (16-oz.) cans Great Northern Beans

2 medium white onions, chopped

4 cloves garlic, minced

6 cups chicken stock or canned chicken broth

2 (4-oz.) cans mild green chilies, chopped

2 teaspoons ground cumin

3 cups (12 oz.) grated Monterey Jack cheese

1 1/2 teaspoons dried oregano, crumbled

1/4 teaspoon cayenne pepper sour cream (optional)

Cook chicken about 15 minutes. Cool, cut into cubes.

Heat oil over medium heat, add onions and sauté until translucent, about 10 minutes.

Stir in garlic, then chilies, cumin, oregano, cayenne pepper and cilantro, sauté 2 minutes.

Add undrained beans and stock and bring to a boil. Reduce heat; add chicken and cheese and stir until

cheese melts.

Season with salt and pepper to taste.

Ladle into bowls and garnish with sour cream if desired.

4 Boneless and Skinless Chicken Breasts
---
4 Chicken breast on the bone and with skin

5 cloves of garlic - minced

1/2 C Olive oil

1/4 apple cider vinegar

1/2 tsp pepper

1/2 tsp salt

1/4 - 1/2 tsp chipotle chili pepper

1/2 tsp smoked paprika

1/2 tsp ground cinnamon

1/4 tsp ground cloves

1 1/2 tsp crushed oregano

1/2 tsp sugar

Juice from one lemon for use while grilling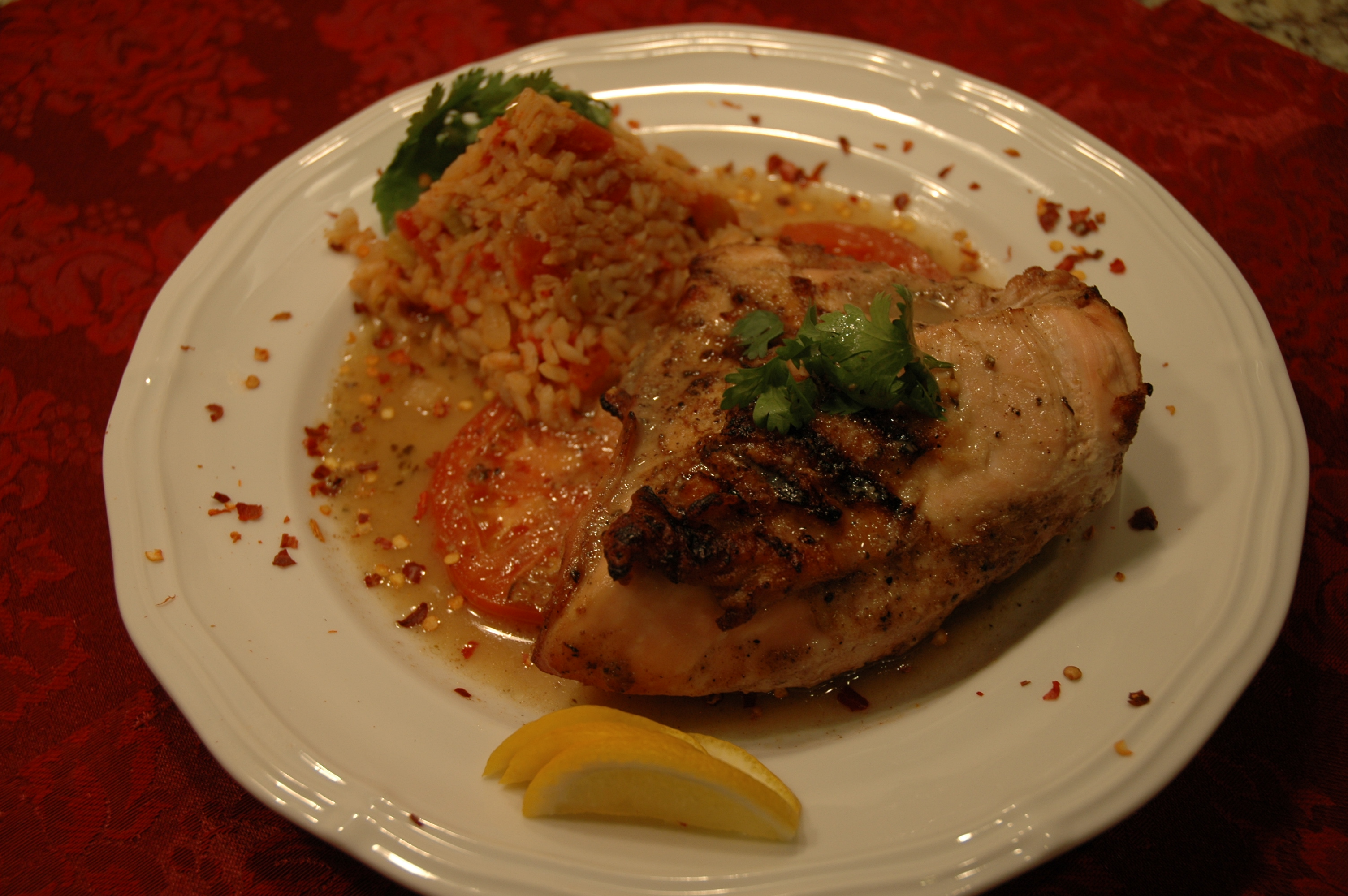 Mexican Spiced Chicken shown here with Fire Roasted Tomato Mexican Rice
The Process:
Combine garlic, olive oil, vinegar, and spices in a bowl and mix well.

Pour all but about 1/4 cup of marinade in a plastic freezer bag and add chicken

Marinate for 1-3 hours

When ready to cook, heat grill to med-high heat

Place chicken on grill skin-side down and cook for 5 or so minutes

Turn chicken over and turn grill down to med (this is the only time you will have to turn the chicken)

Cook the chicken for another 10 or so minutes (the chicken should reach an internal temp of 160° at a minimum)

Throughout the cooking process, pour a little bit of lemon juice on the chicken skin

While the chicken is cooking, you can heat up the marinade you set aside to drizzle over the chicken when you serve it
---
Bacon Mushroom Smothered Chicken
Chicken
4 boneless chicken breast
1 cup Italian dressing
1 tsp ground cumin
8 slices of bacon, chopped
1 -8 oz. pkg mushrooms, sliced
1 cup cheddar cheese, grated
1 cup Monterey Jack cheese, grated
Honey Mustard
1 cup Hellmann's Mayonnaise
1 Tbsp Grey Poupon Dijon Mustard
1/3 cup honey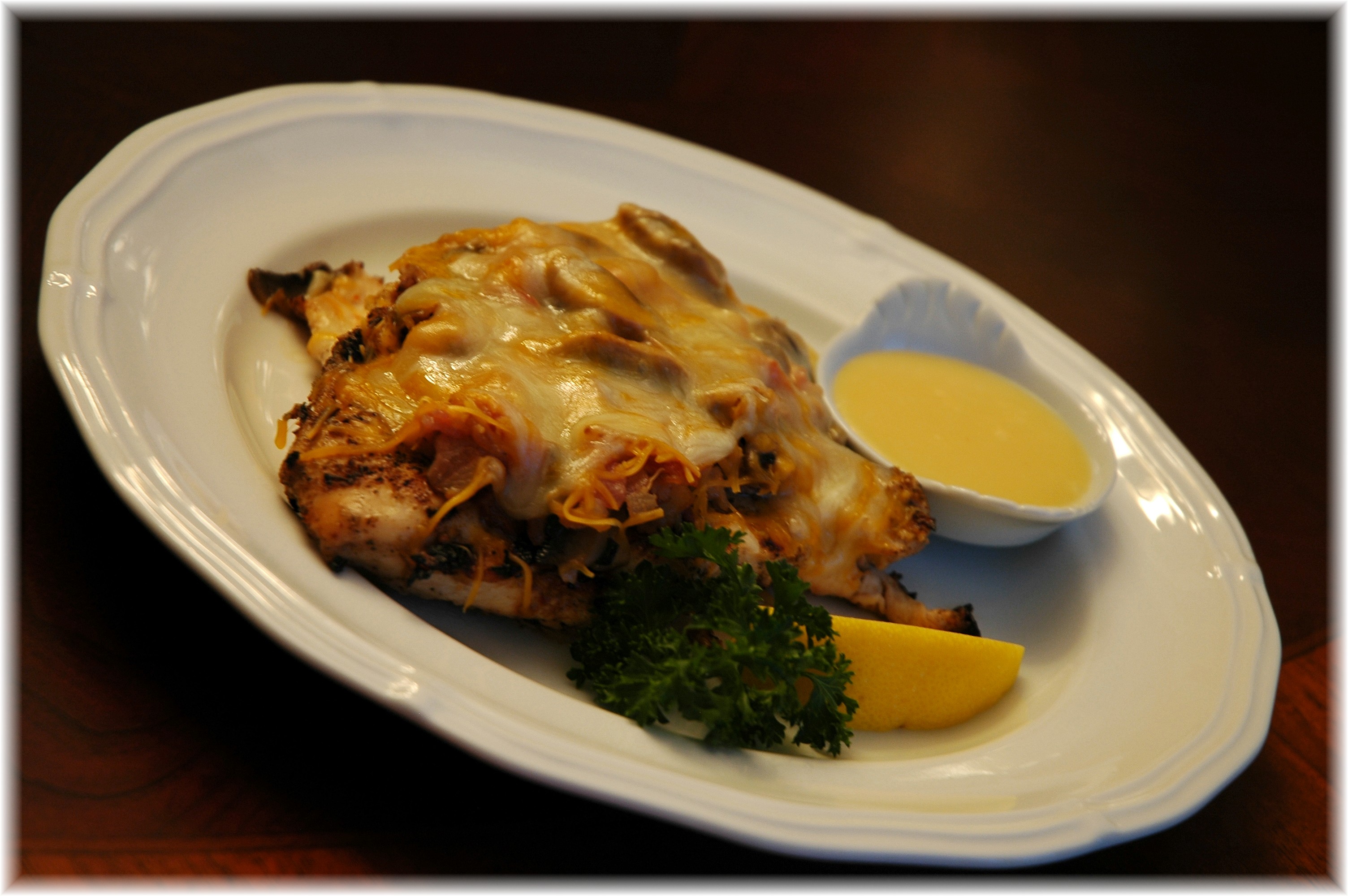 This is my mother's recipe and based on one of her favorite restaurant entrees.
The Process:
Flatten chicken with a meat mallet (about 1/4 inch thick)

Mix Italian dressing and cumin

Place chicken and dressing mix in a plastic freezer bag and marinate for 30-60 minutes

Grease grill with non-stick grill spray or vegetable oil

Grill chicken over medium heat until juices run clear

While the chicken is grilling, fry the bacon until just done

add the mushrooms to the bacon and sauté until tender

Remove the chicken from the grill and place in a glass baking dish

Cover chicken with bacon/mushroom mixture and the cheddar and jack cheeses

Bake at 350 degrees until the cheese is melted

Serve with Honey Mustard sauce
Honey Mustard Sauce
---