German Food
---
Barbecued Beef Brisket (Okay, this is not German food but it is great with the potato salad)
---
This is my Grandmother's recipe that my Mother has made for YEARS!! It compliments Bratwursts, red cabbage, and a Barbecued Beef Brisket.
5 lbs potatoes
9 slices bacon
3/4 Cup chopped onion
1 Tbsp Flour
3/4 Cup Cider Vinegar
1 1/2 Cups Water
1/4 Cup Sugar
1 Tsp Salt
1/4 Tsp Pepper
Peel and cook potatoes until tender. Drain
Cook bacon until crisp. Remove bacon and drain (Reserve drippings 1/3 Cup).
Cook onion in reserved drippings until tender. Stir in flour, sugar, salt, and pepper.
Cook over low heat, stirring constantly until mixture is bubbly. Remove from heat, and stir in vinegar and water. Heat to a boil, stirring constantly.
Slice potatoes, and add to mixture. Stir to coat potatoes. Crumble bacon and add to potatoes
Makes 10 servings.
---
This is a great recipe to go with the German Potato Salad.
5 or 6 lb fresh boneless beef brisket
3 oz. commercial liquid smoke
Celery Salt
Onion Salt
Garlic Salt
Salt and Pepper
Worcestershire sauce
6 oz barbecue sauce
Put meat in baking dish and pour liquid smoke over meat. Sprinkle meat over both sides with celery salt, onion salt, and garlic salt. Place covered in refrigerator overnight.
When ready to bake, sprinkle with salt and pepper, and a little Worcestershire sauce. Cover and bake 5 hours at 275 degrees
Spoon barbecue sauce on top and bake 30 minutes uncovered.
Cut in thin slices. If desired, spoon any remaining pan juices over sliced beef and serve on onion rolls.
---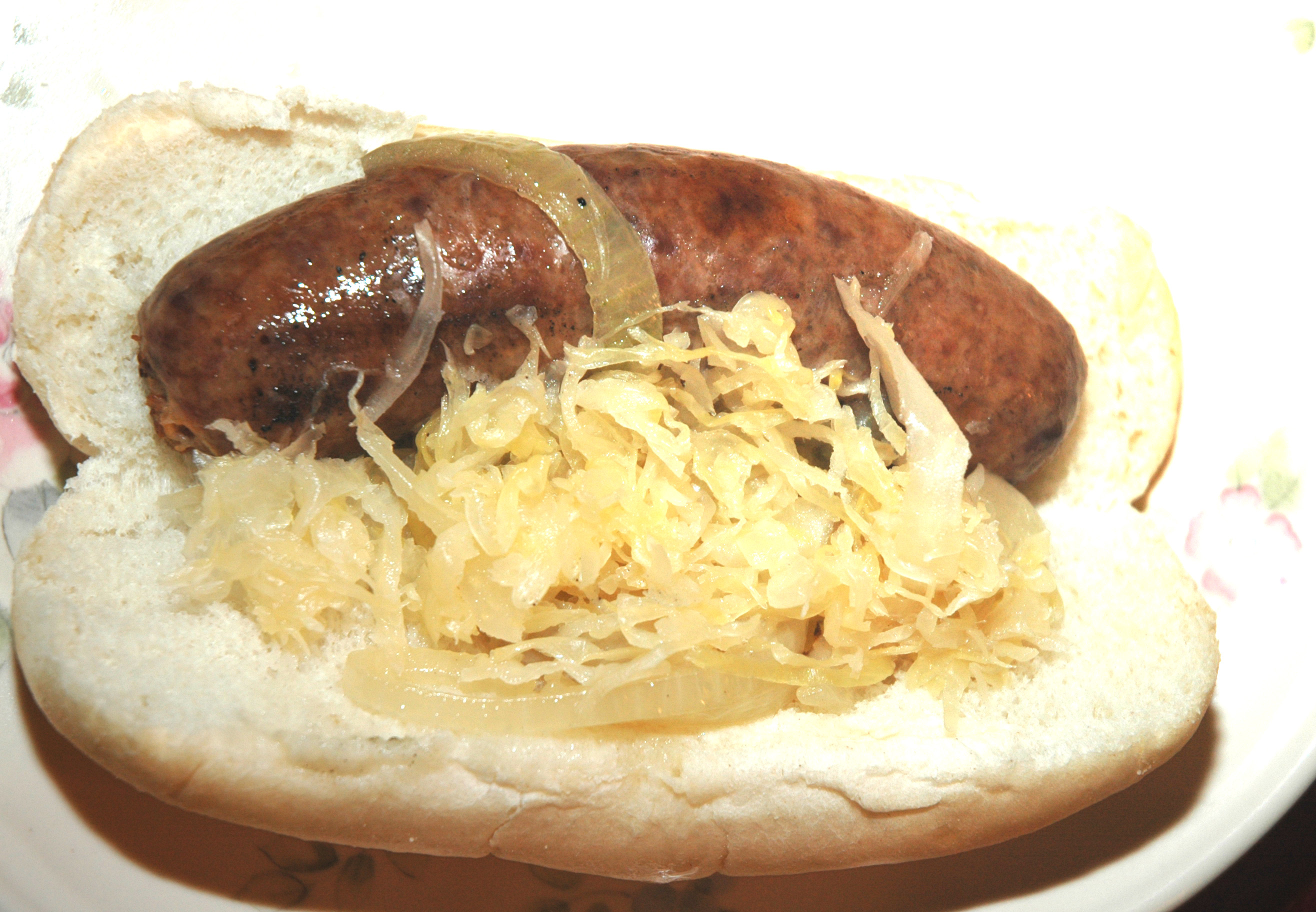 This is the right way to serve Bratwurst.
1 pkg Johnsonville Bratwurst (Usually 5 in a pkg)
1 Large White or Yellow Onion, Sliced
3- 12oz Cans Light Beer
Put the brats in a large stock pot and cover with beer.
Bring to a boil, reduce heat to Medium-Low, and cover for about 35-45 minutes.
Grill the brats on low until brown.
While grilling the brats, cook the onions in the beer until tender.
Serve with Kraut and Spicy Mustard.
---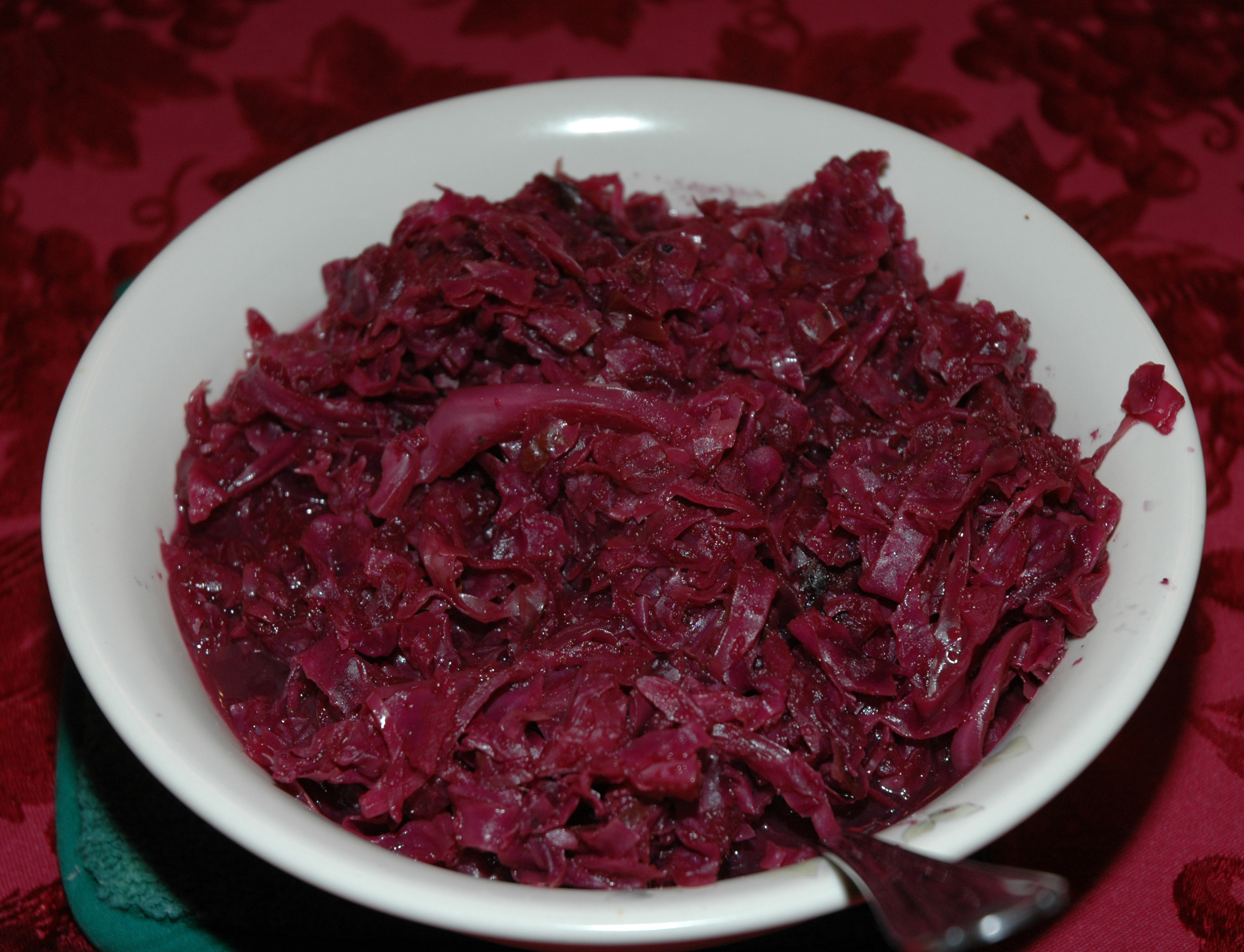 1 medium head red cabbage, cored and shredded
1 medium onion, diced
1 cup applesauce
1/4 Cup cider vinegar
1/4 Cup red wine vinegar
1/4 Cup sugar
1 tsp ground gloves
1 bay leaf
salt and pepper to taste
Combine red cabbage, onion, applesauce, vinegar, sugar, cloves, bay leaf and salt and pepper in large saucepan.
Cook over low heat stirring occasionally for 15 to 20 minutes or until cabbage is cooked.
Adjust seasoning as needed.
Add 1-2 tsp of vegetable oil and 1 tsp corn starch.
---