Tex Mex
---
Spicy Black Bean and Sausage Chili
Churrasco Steak - Nicaragua Style
---
These are the favorites around our house. The best part about these recipes is that you can make a double batch of the Pico De Gallo, Guacamole, and Fajitas for use with the Quesadillas.
This is used as a condiment for fajitas or tacos but I also like to make a very large batch to use for omelets the next morning and a new spin on Bruschetta (Italian bread with tomatoes, onions, and other vegetables on top).
All the quantities are a starting point, I always end up adding more garlic, salt, pepper, and lime juice depending on my taste for the day so start here and taste away adding a pinch here and there of whatever you think it needs.
½ pound Roma Tomatoes seeded and chopped in small pieces (usually 6-7)
½ large Red Onion diced in small pieces
½ Cup Fresh Cilantro chopped
2 ½ - 3 Tbsp Fresh Lime Juice
2 gloves Garlic
1 Tsp Pepper or to taste
1 Tsp Salt or to taste
1 Tsp Oregano
2 Jalapenos seeded and diced (Optional)
Combine the ingredients in a bowl and mix well. Let stand at room temperature for 20 minutes then mix again and refrigerate (best served the next day).
---
This is also used as a condiment for fajitas and quesadillas but also a great nacho chip dip. These are approximate quantities so adjust to your taste.
2-3 very ripe Avocadoes
1 Roma Tomato (seeded and chopped)
1/2 Red onion (chopped)
3/4 of an Anaheim Chili (chopped) or 1/2 red bell pepper (chopped)
1 Tsp Lime Juice
1 Tsp Garlic Salt
1 Tsp Pepper or to taste
1 Tsp Salt or to taste

Peel the avocadoes and remove the seed. Use a fork to smash the avocadoes into a chunky texture.

Add the remaining ingredients and mix well.
---
This is one of the best steak recipes I have ever tried. Get all of the ingredients measured and ready to go for the sauce because you will not have time to prep once you start cooking the steak. This is great with Chipotle Mashed Potatoes.
Steak Rub
4 tsp brown sugar

2 tsp salt

2 tsp paprika

1 tsp chili powder

1 tsp black pepper

1/2 tsp garlic salt

1/2 tsp onion powder
Steak
8 beef tenderloin filets (3 oz. each)

2 Tbsp olive oil
Steak Sauce
1 tsp garlic (minced)

2 tsp tomato paste

1 cup port wine (the good stuff; use wine you would actually drink-it does make a difference)

1 cup beef broth

1 tsp Worcestershire sauce

2 Tbsp unsalted butter

1 tsp salt

1 tsp pepper
Garnish
1 Tbsp minced chives
Preparation (Serves 4)
Combine all Steak Rub ingredients and mix well.

Cover each side of the steaks with the rub and press using a spoon or fork

Heat olive oil in large skillet over Med-High heat (Make sure the oil is hot before you place steaks in pan)

Cook steaks for about 3 minutes each side (or until desired doneness)

Remove steaks and keep warm (you can heat the oven to 250 degrees and place steaks in oven safe dish)

In the same skillet used for the steaks and reduce heat to Med.

Add garlic and cook for 15 to 30 seconds

Add tomato paste and cook for one minute

Scrape down skillet and add port wine and reduce by half

Stir in beef broth and Worcestershire sauce and bring to a boil (may have to increase heat a bit)

Simmer for two minutes

Add butter and stir until melted

Add salt and pepper to taste and simmer for two minutes

Add steak back to pan and simmer for one minute on each side

Serve on top of garlic/cheese mashed potatoes or chipotle mashed potatoes.

Spoon sauce over steaks

Sprinkle chives over steak as a garnish
---
This is my oldest sister's recipe that has become our household favorite. We have made this for a number of guests and is always a huge hit. We serve it with Burrito-sized tortillas, Mexican rice, Pico De Gallo, Guacamole, sour cream, shredded cheese (Kraft Four Cheese Mexican blend), refried beans, and of course sangria.
4 Boneless and Skinless Chicken Breast or One pound Skirt Steak
½ Cup Water or White Wine (I usually use Water)
¼ Cup Lemon Juice
¼ Cup Orange Juice
¼ Cup Soy Sauce
1 Tbsp Liquid Smoke
3 Tbsp Olive Oil
1 Tbsp Italian Seasoning or Oregano
2 Garlic Gloves
½ Tsp Pepper
½ Cup Tequila (Optional, this is not in the original recipe but I added it for fun the last time I made it and it turned out pretty good)
1 Green Bell Pepper, sliced
1 Large Yellow or White Onion, sliced (White is more authentic Mexican and better in my opinion)

In a medium bowl, mix orange and lemon juice, water, soy sauce, garlic, black pepper, Italian seasoning, olive oil, liquid smoke, and Tequila (if used).

Slice onions and place in large freezer bag.

Place meat in freezer bag with onions.

Pour marinade over meat and onions, seal bag, and refrigerate over night (turn bag over once).

Grill meat until done.

While meat is grilling, cook the marinade, onions, and bell peppers over med-high heat in large skillet until peppers and onions are tender.

Cut the grilled meat crosswise in finger-length strips.

To assemble: Place flour tortilla on plate; place meat strips in center with onions, bell pepper, and desired condiments.
Makes 8-10 servings.
---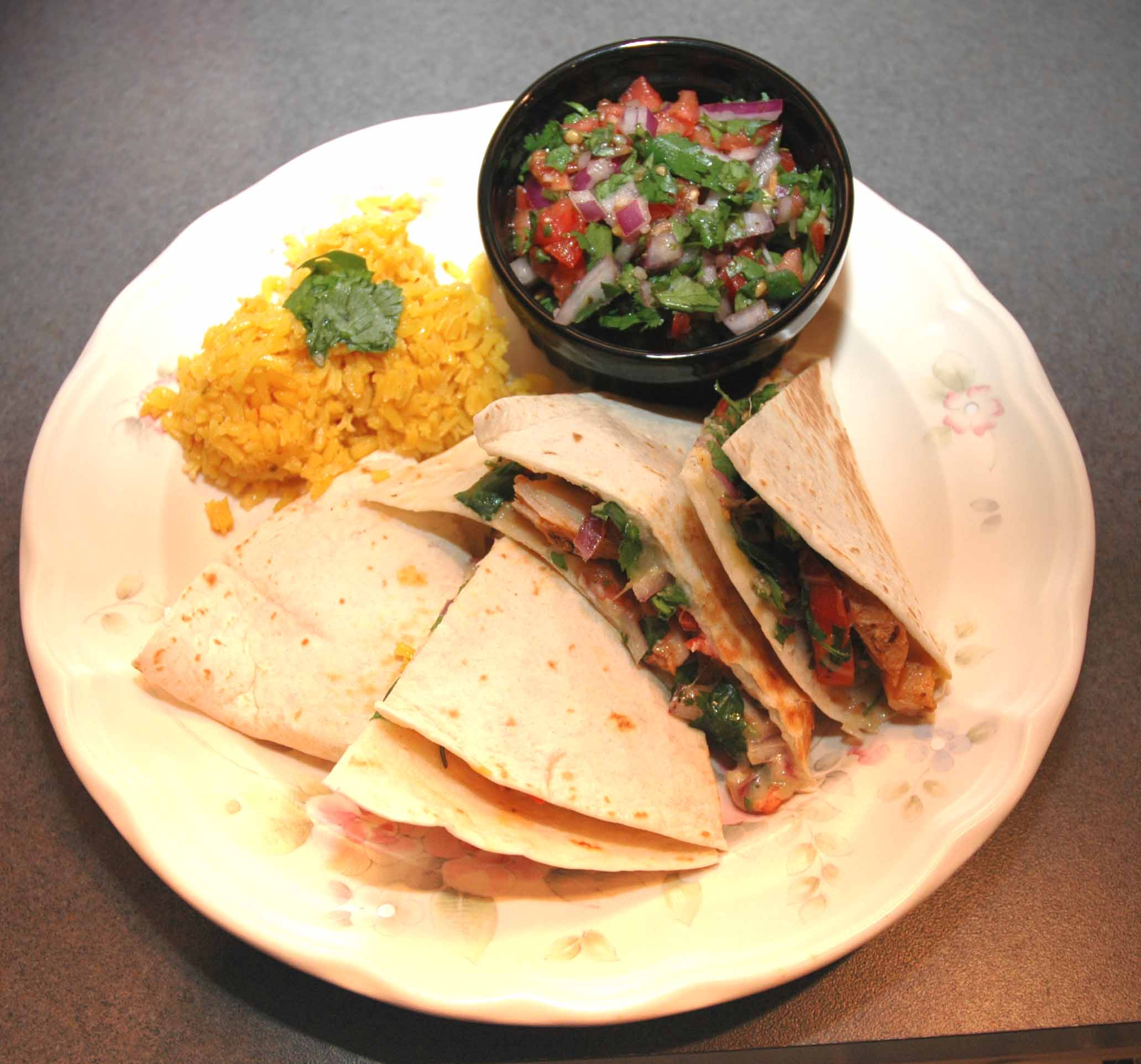 This is a great use of any left over Fajita meat, churrasco meat, Pico De Gallo, and Guacamole you may have. If you do not have any Fajita meat, we like to use the pre-cooked Purdue Southwest Chicken.
½ Pound Boneless and Skinless Chicken Breast diced
1 Cup Pico De Gallo
2 Cups Kraft Four Cheese Shredded Cheese
One Bell Pepper diced and sautéed in olive oil
Four Burrito-sized tortilla shells

Heat chicken and diced bell peppers in sauté pan

Place cheese on half of tortilla shell

Place meat, Pico De Gallo, and bell peppers over cheese on tortilla shell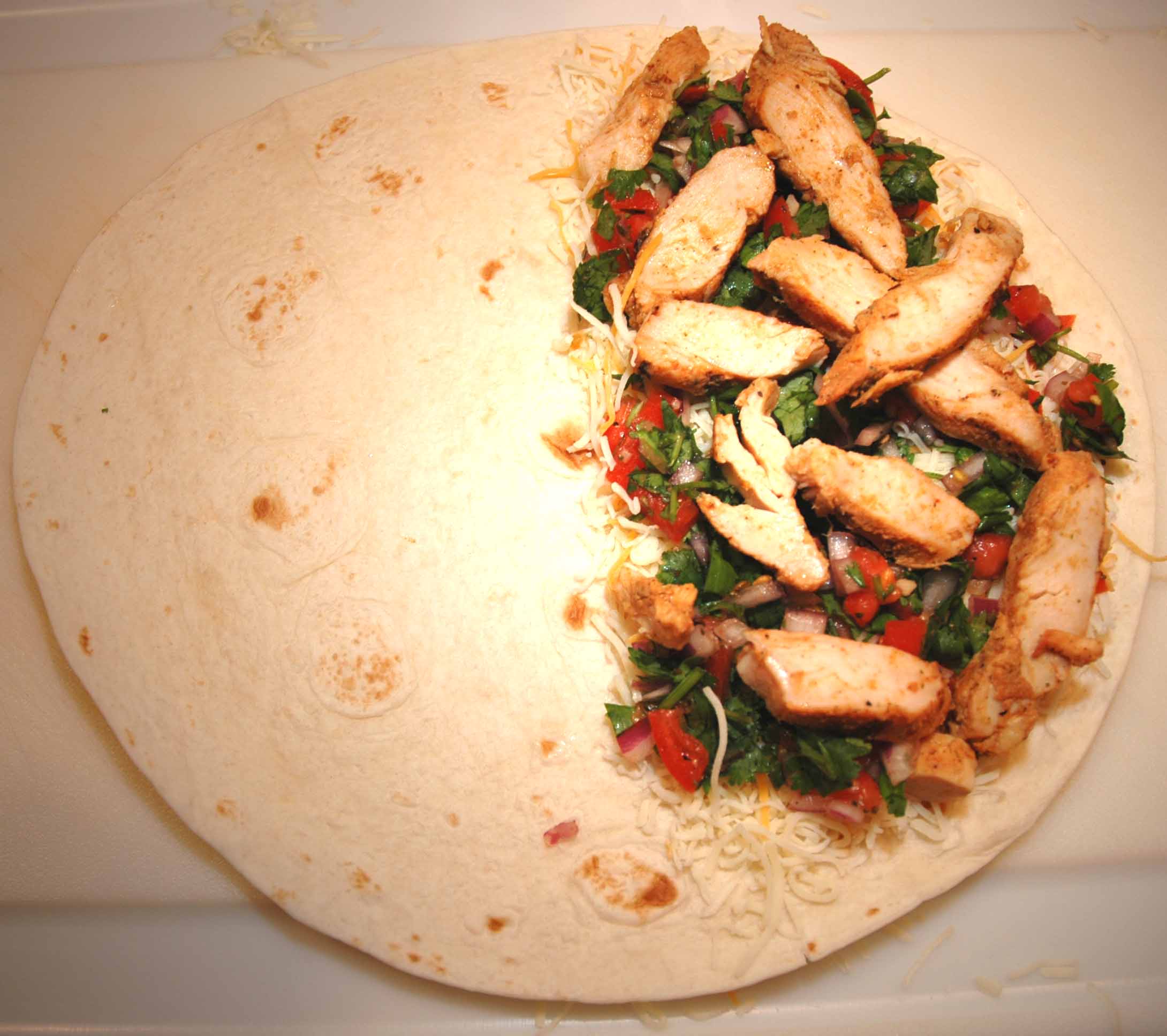 Place cheese over meat, Pico, and bell peppers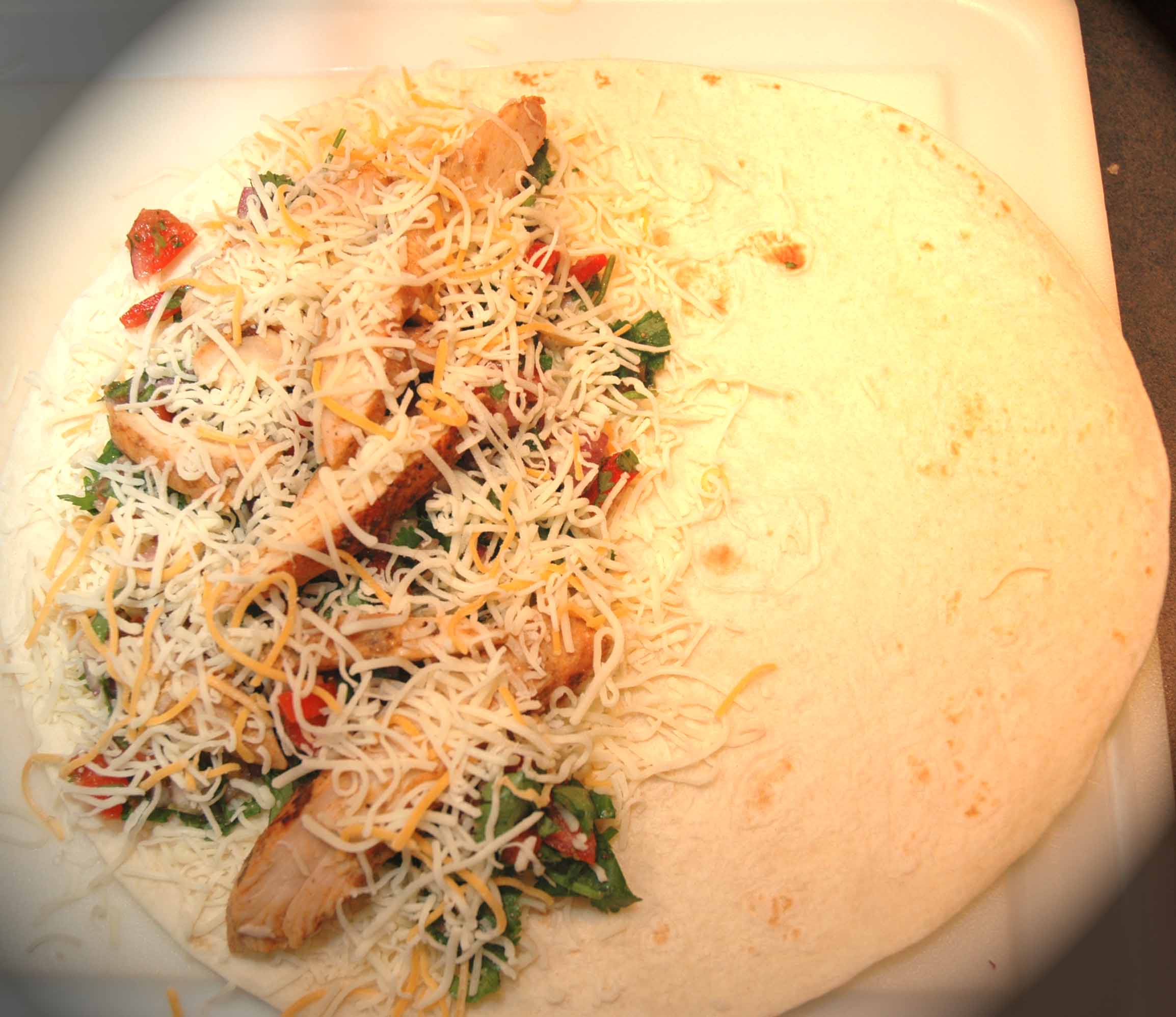 Fold tortilla and place in large pre-heated skillet on Med-high heat.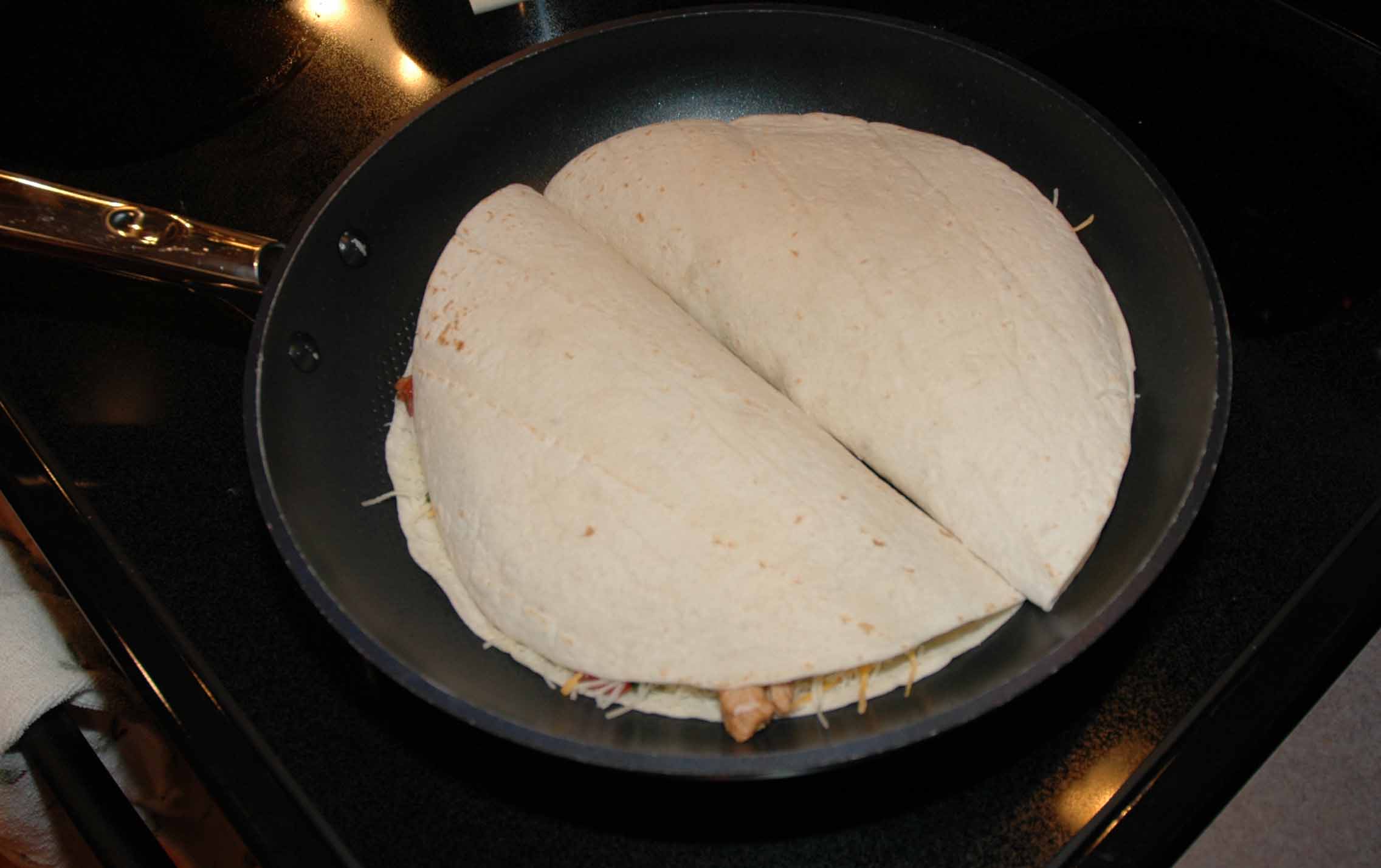 After 2-3 minutes, check the bottom of the tortilla. If toasted brown, flip tortilla on other side.

Check bottom after 2 minutes, if toasted brown, remove from heat and place on cutting board.

Cut into pie-shaped pieces and serve

Repeat for remaining tortillas (can cook 2 at a time if desired)
Serves 4
---
Spicy Black Bean and Sausage Chili
1 tablespoon vegetable oil

1 large white onion, chopped

2 tsp garlic, minced

1 medium green bell pepper, seeded and diced

1 pound cooked sausage, thinly sliced

1 jar (16-ounces) chipotle salsa

2 cans (15-ounces each) black beans, drained

2 cans (14-ounces each) diced tomatoes, diced

½ teaspoon crumbled oregano

8 ounces shredded cheese (Cheddar or Monterey Jack)

OPTIONAL TOPPINGS:

Fresh cilantro, chopped

Green onions, chopped

Sour Cream

Tortilla Chips, crumbled
Pour oil into a large deep pan and warm over medium heat.

Add the onion and garlic, cook until tender and translucent, about 3 to 4 minutes.

Stir in green pepper and cook 1 minute.

Stir in sausage, salsa, beans, tomatoes and oregano.

Simmer over medium-low heat, stirring often for about 30 minutes.

Serve in warm bowls topped with cheese and toppings of your choice.

YIELDS: 6 servings NOTE: This recipe can be doubled.

---

Churrasco - Nicaragua Style Steak

This is an awesome steak recipe. It made it to the kids' favorites list in one attempt. I have made slight modifications to the original recipe. The key to this one is to get the grill good and hot before cooking the steak. You can also add about 1/2 tsp of chipotle chili powder at the same time you add the salt and pepper if you want to give it a little kick.

1 1/2 Lbs Top Sirloin Steak (very thinly cut)

1 Large bunch Parsley - stemmed

2 cloves minced garlic

1/2 Cup white Onions - chopped

1 Cup Olive oil

1/4 Cup Red wine vinegar

Juice from one lime

1 Tbsp Liquid Smoke (Hickory flavor works best)

1 1/2 tsp Salt

1 tsp Pepper

The parsley sauce is known as a chimichurri sauce and is used to marinate and as a condiment for steaks.

Place parsley and garlic in a food processor until finely chopped

Add onions, olive oil, vinegar, lime juice, liquid smoke, salt and pepper and pulse until well blended

Reserve 1/4 Cup of Chimichurri for use after the steak is cooked.

Place the steak in a plastic freezer bag and pour in the Chimichurri sauce

Marinate for at least one hour in the refrigerator and turn once

Heat grill on high heat

Oil the grill grate

Cook steak to desired temp and serve with Jalapeño and Chimichurri sauces.

---

Jalapeño Cream Sauce for Steaks

This sauce is great for any steak but especially for the churrasco above. I also like to use this on quesadillas with the steak.

2 Tbsp butter (real butter)

2 cloves garlic - minced

1/2 small white onion - chopped

1/2 C white wine - Chardonnay works great

1 C Heavy cream

1/2 C pickled sliced Jalapeños (chopped)

1-2 Tbsp Jalapeno juice (from the pickled Jalapenos)

1/4 C Sour Cream

1 tsp Salt

1 tsp Pepper

1/4 tsp chipotle chili powder (OPTIONAL - this will make it hot)

Melt the butter in a sauté pan on Med heat

Add the garlic and onions until the onions are translucent

Add the wine and boil until reduced by half or a little more

Add the heavy cream and jalapenos on med-high heat until reduced by 1/3

Stir in sour cream and jalapeno pickling juice

Add salt, pepper, and chipotle chili powder (if used)

Heat on low for about 3 - 5 minutes

Remove from heat and place in serving bowl.

Serve over steak or chicken
---
---